VFC Umarex G28 Tan AEG (limited Edition)
Product code:
VF1-LG28-TN02
Regular price
$1,088.00 USD
Sale price
$1,088.00 USD
Regular price
Unit price
per
Sale
Sold out
View full details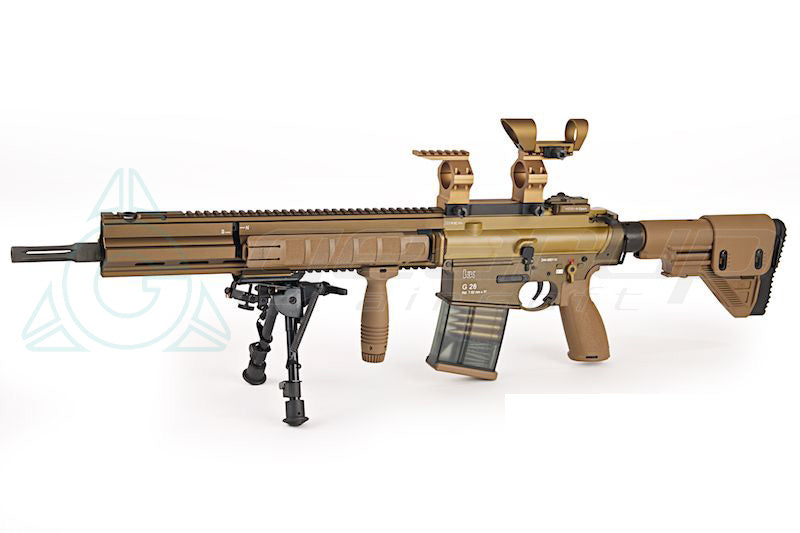 The real steel G28 is a military version of the civilian semi automatic competition rifle MR308. Deployed in the established 7.62 x 51 calibre, the "Designated Marksman Rifle" (DMR) ensures accuracy of 1.5 MOA whilst enabling a full night fighting capability.  Providing a maximum effective range and a high first round hit probability up to 600 meters, the HK241 will also allow suppressive fire against man size targets accurately up to 800 meters.
With its green brown tone, the G28 offers a camouflage colour scheme that is being accepted around the world. An additional conversion kit supports user and mission specific requirements where the G28 can be configured to a Patrol version and be used as a Assault rifle.
The VFC G28 AEG, fully licensed by Umarex, is a full metal airsoft rifle with all markings with all the accessories to successfully replicate the real steel version in an electricity powered form. It stretches to just under a meter long weighing in at 5.2 Kilograms so carrying this won't be easier for a beginner unless you're used to carrying heavy weights.
The G28 is the longer version of the 417 with a much longer quad rail system, a modular, collapsible stock, its own fore grip, a Harris Bipod and scope rings for a scope and a red dot sight. This particular AEG doesn't come with the scope or the red dot as VFC know that most players would have their own scope they trust and would most likely apply it to the G28.
Features:
Dedicated semi automatic only construction allows for use as DMR or sniper role
Realistic tan/green finish as seen on real steel G28 rifles used overseas
Fully adjustable stock including, length, height and cheek weld
Inncludes bipod and bipod adapter
H&K Optics mounts and 30mm adapters included
Full length rail allows for modular accessory mounting
Each rifle is individually serialized from 1-250
Includes H&K traded rail covers
Uses standard 417 style magazines

Specifications:
Gear Box: Ver 2.2
Motor: VFC Long Type Motor
Magazine: 120 Rds
Length: 907mm / 1040mm
Barrel Length: 440mm
Battery: 7.4v Buffer Tube Type
Muzzle Velocity: 400-440 FPS with 0.2g BBs
Customer Who Bought This Also Bought