UMAREX - VFC GRS CUSTOM HK417 LIMITED BENGHAZI EDITION AEG
Product code:
VF1-LHK417-BK04
Regular price
$521.00 USD
Sale price
$521.00 USD
Regular price
Unit price
per
Sale
Sold out
HK417 assault rifle was recently developed by famous German arms-making company Heckler und Koch, as a big brother to the 5.56mm HK416 assault rifle. Information on this weapon first surfaced in 2005, on the wave of new interest for the 7.62mm NATO caliber military rifles. This interest came in from experience of international forces gained in Afghanistan and Iraq, where increased range and penetration of the 7.62mm NATO bullets was (and still is) quite useful. Several companies developed new or updated versions of 7.62mm weapons, with intent to sell to military, law enforcement and in certain cases - to civilian shooters as well. The HK417 is one of such weapons. It is primarily oriented toward US market, as it mimics the popular 5.56mm AR-15 / M16 rifles in external appearance, controls, and many design features.However, there are more than few new and original features in HK417,including Heckler-Koch's patented piston-operated gas system,user-changeable barrels etc. Like most other competitors, HK417 rifles are available in several barrel lengths, suitable for full scale of military operations, from close combat in urban or forest areas and upto long-range accurate shooting.

HK417 rifle is a gas operated,selective fired weapon of modular design. It uses short-stroke gas piston located above the barrel, that operates the 7-lug rotating bolt. Barrels are cold hammer forged, and could be replaced by end user in several minutes using simple tools. There are four basic patterns of barrels available for HK417 as of now (2008):305mm / 12 and 406 mm / 16 standard barrels and 406 mm / 16 and 508 mm/ 20 accurized barrels. Accurized barrels provide 1 MOA accuracy (with proper ammunition). Receiver is made from high grade aluminum alloy and consists of two parts (upper and lower), connected by two cross-pins a-la AR-15 / M16 rifles. Combination-type safety / fire selector allows for single shots and full automatic mode. HK417 retains all M16-style controls, including last round bolt hold-open device, bolt closure device, rear-based charging handle and magazine release button on the right side of the magazine well. HK417 is fitted with four Picatinny rails on free-float handguard as standard, and will accept any type of sighting devices on STANAG-1913 compliant mounts. It also can accept modified HK AG36/AG-C 40mm grenade launcher, which is clamped directly to bottom rail. Buttstock is of modified M4 design, multi-position telescoped. Production HK417 rifles use proprietary 10- or 20-round box magazines, made of translucent polymer(early prototypes used HK G3 magazines).

Umarex's Full Metal HK 417 is the first of airsoft AEG of it's kind to hit the market. It is very similar to the HK 416 except that it's real steel counterpart uses 7.62 caliber rounds so the magazine and lower receiver is larger than the HK 416.

It is of a full metal construction and has been engraved with HK Trademarks as it is licensed by H&K. The ergonomic pistol grip is made out of nylon fiber and is very comfortable to grasp. The 6 position adjustable crane stock is also made of nylon fiber and has very authentic H&K markings as it should. The butt pad itself is made of rubber which is very comfortable when applied against the shoulder.

The HK 417 features a solid, CNC Aluminium, free float rail system and sling attachment points are mounted at the back. The internals are of exceptional quality as from VFC with self shimming gears which makes for a very smooth operating system.

Another new feature of the HK 417 is that that the version 2 gearbox has now been upgraded to a V2.2 gearbox. The new features consists of the motor being at a steeper angle which allows the use of traditional pistol grips and anything that will come out in the future. The top part of the gearbox is a little thinner as well so the receiver of the HK 417 can be thinner in comparison to what you're used to seeing on a traditional M4/SR25 AEG.

It shoots at a very consistent 365 fps and consistency is what you look for. It's great for most CQB areas but if it's still too high or too low for you, we can change that!

In the movie '13 Hours: Secret Soldiers of Benghazi' by Michael Bay , the HK417 was used by GRS team members 'Oz' and 'Boon' for long range support which had a 16 inch extended barrel with a 9 inch rail system. For the memorization of the 6 nameless soldiers who voluntarily helped to defend US Citizens in Benghzai , VFC have released this special edition which has the following unique features:
Folding iron sights
G28 style enhanced charging handle
HK V7 Enhanced polymer grip
 
Fully licensed HK markings
Steel barrel extension
Steel magazine release
Steel bolt release
Steel forward assist
Steel Hammer and fire control group internals.
View full details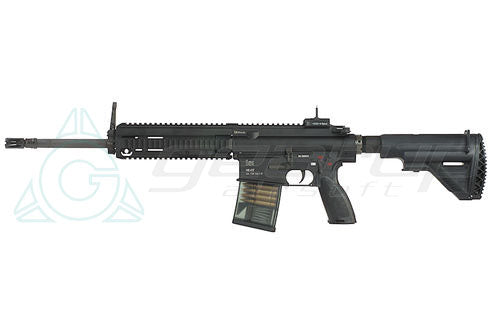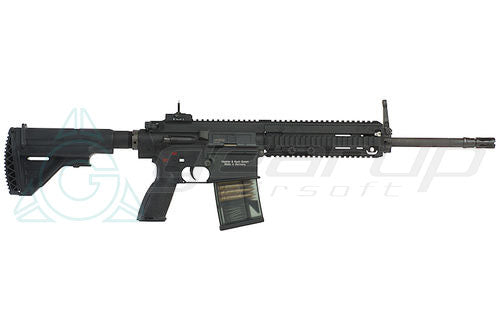 Customer Who Bought This Also Bought