Double Eagle ER16 CQB BK M906C-1 (Aluminium Alloy)
Brand:
Double Eagle Airsoft
Regular price
$271.00 USD
Sale price
$271.00 USD
Regular price
Unit price
per
Sale
Sold out
View full details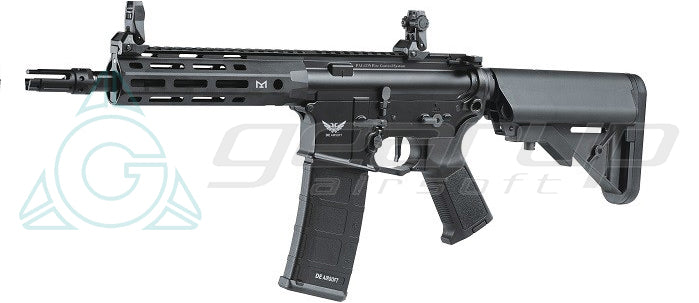 DESCRIPTION
Compact and dependable for shooters of any skill level. This multi-stroke pneumatic air rifle based on the highly popular AR platform has crisp,highly detailed synthetic construction finished black.
Features:
- Programmable Electronic Trigger

- Recommend 11.1v battery
- Shoots 6mm BBs
- Top and side accessory mounting rails
- Ergonomic pumping grip handle
- Telescopic stock for enhanced comfort
- Includes removable and adjustable rear sight
- Available in lowered maximum velocities for select countries.
SPECIFICATIONS
Model#:
M906C
Weight:
2500g
Material:
Aluminium alloys
Forearm:
Metal CNC 7 inch
Silent Flash Hider:
Metal CNC
Metal Gearbox:
Quick spring change
Length:
64cm
Velocity:
Up to 400 fps
Customer Who Bought This Also Bought