EMG Helios EV01 Bolt Action Airsoft Sniper Rifle - Black (Co2 Magazine Version)
Product code:
EV01-BK (CO2)
Regular price
$338.00 USD
Sale price
$338.00 USD
Regular price
Unit price
per
Sale
Sold out
View full details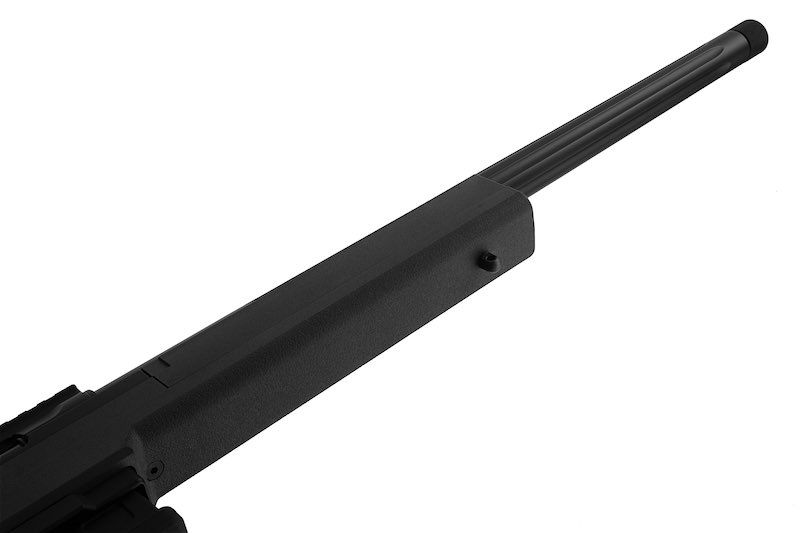 Features
Compatible with AEG springs; QD power / fps change; Lots of upgrade and customization parts
Metal receiver, bolt and barrel assembly, fluted outer barrel, metal 20mm top accessory rail for optics
Direct feed 55 round magazine
Ambidextrous magazine release; Loaded chamber indicator
Adjustable hop up dial
Trigger-guard safety lever
Harris mount compatible
Pistol grip hides hex keys needed for basic weapon breakdown or hop-up adjustment
Safety drop test passed
Built on the ARES Striker series of Airsoft sniper rifles, the EMG Helios EV01 is a new take on the tried and true M40 styled chassis with modern creature comforts to enhance the shooter's experience. New with this rifle is a trigger guard safety bar, allowing the shooter to easily use it without ever taking their finger out of the trigger area, and an enhanced magazine release also within close reach of the trigger finger. The metal receiver houses AMOEBA's Compact Power Bolt, which provides the shooter with the same power they are used to with a much shorter bolt pull length.
Manufacturer: EMG Helios / ARES
FPS Range: 415-420
Specifications:
Length:
 1085mm
Weight:
 2610g
Magazine Capacity:
 55 Rounds
Fire Modes:
 Bolt Action
System:
 High Power Spring
Hopup:
 Yes, Adjustable
Package Includes:
 Gun, Magazine, Manual
Customer Who Bought This Also Bought