Aluminum Slide for TM HI-CAPA 5.1 (MARUI OPS-Cerakote Silver Polishing)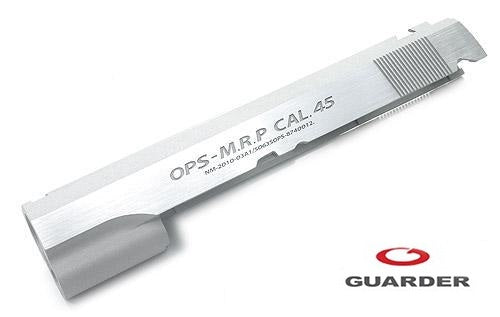 The slide is a part of the semi-automatic pistol, which houses the striker and the extractor. It keeps moving during operation and serves as a bolt carrier. It works on a spring-actuated mechanism. At the time of firing, it is moved to its rearmost position and spring tension forces it back to the start position. They operate on both the principles of blowback and recoil. On most of the designs, when the chamber and magazine are empty, the slide will be locked back.
The aluminum slide looks best on a pistol and makes your weapon look glamorous. If your pistol doesn't have one, you can customize your
airsoft pistol
to make a stand on the battlefield. The aluminum slides are made of high-quality aluminum to provide durability and realistic weight to the weapon. They give an anodized finish for the airsoft masterpiece. You would proudly want to hold on to your pistol for the aesthetic appeal. The upgraded slide would enable a vented look on your weapon and also keep the slide lightweight. The serrations along with the back and front side enhance a better grip while you are manually loading a BB into the firing chamber or when you are accessing the hop-up chamber.
DESCRIPTION • Weight:
90 g
• Material:
Aluminum
• Color:
Cerakote Sliver/Hariline Polish
• Best for TM hicapa
Customer Who Bought This Also Bought